A Brief History of the Silver Ball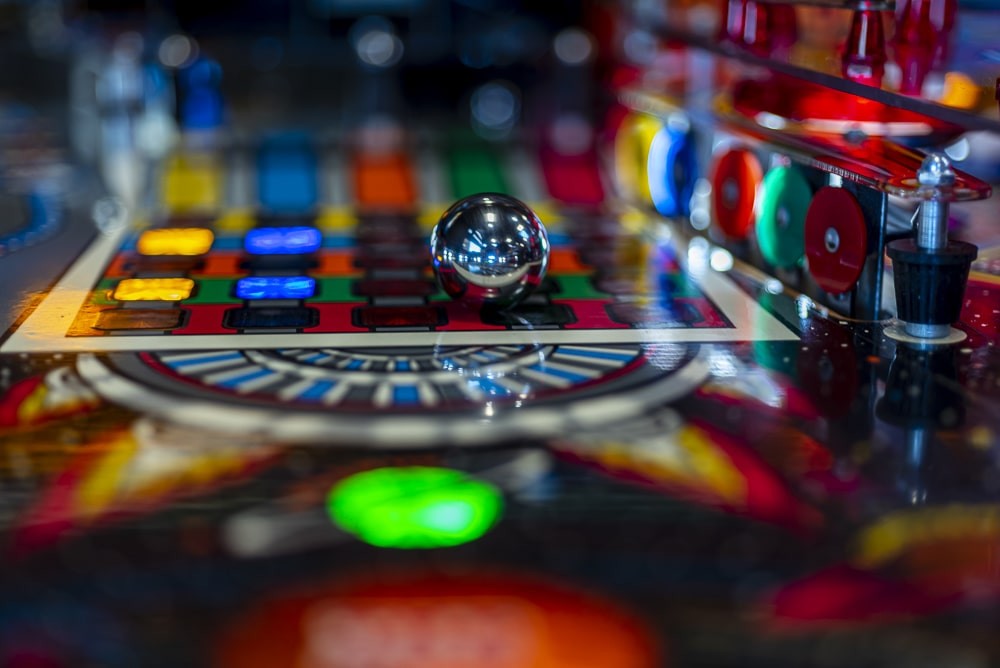 Pinball in its modern form was born during the Great Depression when Americans were looking for cheap entertainment. Based on the French game of bagatelle, where players scored points by getting a fixed number of balls past metal pins into holes on the play field, early pinball machines were built without flippers and didn't involve skill. Users simply pulled a plunger to launch balls onto the playing field, aiming for holes that were worth various point values by bumping and tilting the machines. Because it was a game of chance, pinball was considered a form of gambling and was outlawed in the 1940s. Ironically, flippers were invented in 1947, yet the ban stayed in place until the mid-1970s. It is still illegal in some cities around the U.S. but the law has generally not been enforced.
During the 1950s Williams and other pioneering Chicago companies including Bally and Gottlieb, introduced many new innovations to pinball, including multi-player games, score reels and increasingly sophisticated play field mechanisms and art packages. The games, however, were not computerized. They were electro-mechanical and ran on a precarious balance of moving parts.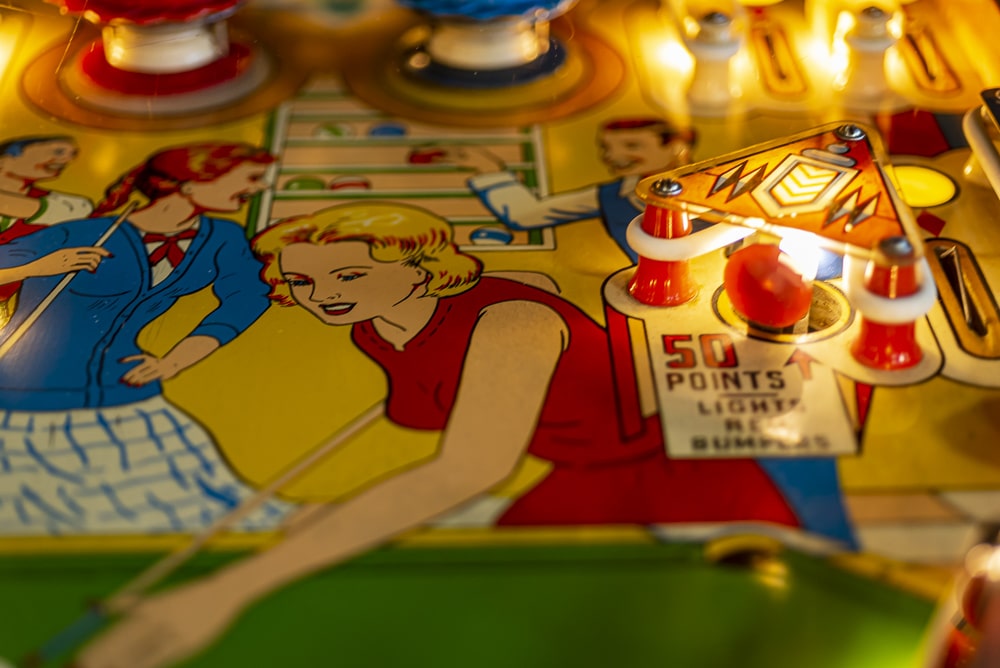 In the 1960s and 1970s games became more technologically advanced but they were still using the same electromechanical principles of coils, relays and stepper units. It wasn't until the late 1970s with the introduction of microprocessors that pinball entered the realm of electronic gaming. Solid-state technology with its circuit boards and digital displays attracted more players with games featuring complex rules, digital sound effects and speech.During this same time, however, arcade video games were starting to take off.Pinball, despite its new and improved features, couldn't compete.
The pinball industry peaked in 1979 with the sale of 200,000 machines. Just three years later — after the release of iconic arcade video games such as Pac-Man and Space Invaders, pinball sales declined an astonishing 85 percent. But a few pinball games released in the 1980s — notably Williams' High Speed, Pin-Bot and Space Shuttle — generated enough excitement to help revitalize the industry. Unfortunately, Bally was stretched thin financially from other ventures and in 1988 sold its pinball division to Williams.
By the early 1990s, pinball was on the upswing again and one of the most popular games of all time, The Addams Family, was released. But just a few years later, home gaming consoles flooded the market and pinball's appeal waned yet again, causing Gottlieb to fold. With sales of new machines dwindling in the late 1990s, the top executives at Williams, which now controlled 80 percent of the worldwide market, called on their designers to reinvent the game. They emerged with an arcade centaur — the head of a video game on the body of a pinball machine — which they named Pinball 2000. Although the initial title sold well, the follow-up game got less traction and Williams closed its pinball division to focus on slot machines.
The demise of Williams left Stern Pinball as the only major American manufacturer for a dozen years until the launch of Jersey Jack Pinball, based in Lakewood, New Jersey, in 2011. Faced with this newcomer's innovations, Stern was suddenly incentivized to up their game and invest in new technology. Today both Stern and Jersey Jack, as well as a host of smaller upstarts like Spooky Pinball and American Pinball, are producing games that are increasingly complex with multiple play modes and multi-level play fields. Modern electronics are even finding their way into a handful of beloved classics. In 2013 Chicago Gaming, a video arcade company, teamed up with Planetary Pinball, owner of the rights to Bally and Williams pinball machines and parts, to remake some of the greatest pinball games of all times.
Fortunately for pinheads everywhere, the silver ball has been making a dramatic comeback! Fueled by nostalgia among older players for the machines of their youth as well as an appreciation of pinball's pop culture status by younger people, this resurgence in interest is introducing a whole new generation to the joys of a classic American pastime.