A Q&A with Pastime Pinball's Founders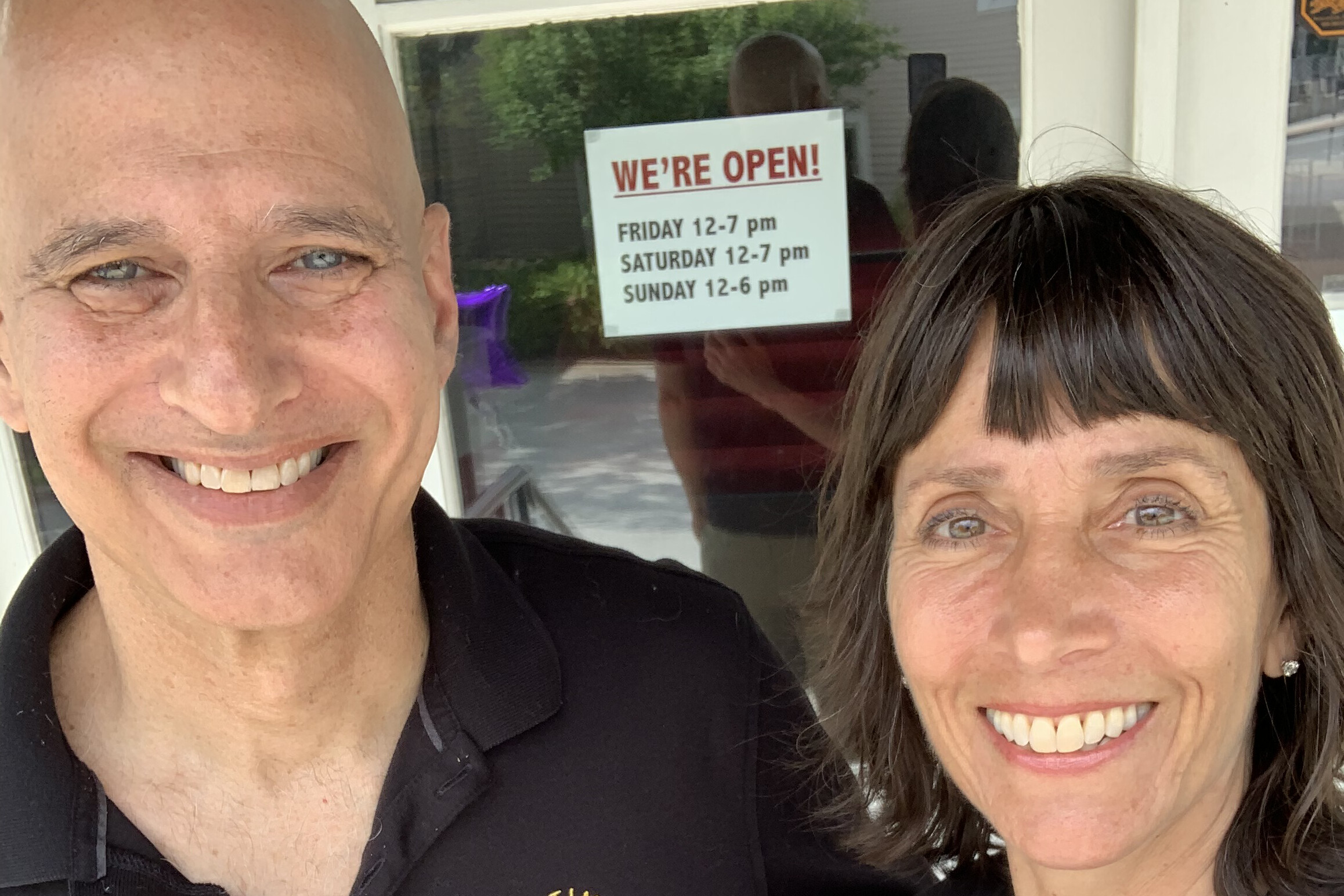 When did Pastime Pinball open for business?
We opened our doors originally on Black Friday, November 29, 2019. Unfortunately we had to close a few months later when Covid-19 turned everyone's world upside down. Thankfully Vermont did a great job of mitigating the pandemic so we were able to reopen on Friday, May 29, 2020.
Are you a franchise? Do you have other locations?
Pastime Pinball isn't a franchise. We have just our one location in Manchester Center, Vermont.
Who owns Pastime Pinball? Is the owner/owners involved in the day-to-day operations?
Beth and Marty Friedman own and operate Pastime Pinball. We had always wanted to start a business together that was fun and that made visitors happy. Pinball is exactly that! We're extremely hands-on and are always greeting customers, repairing and sanitizing games and dishing out treats in the snack bar.
Why open a pinball arcade in Manchester, Vermont instead of a larger city with a bigger population?
It's true that Manchester has only a few thousand full-time residents, but it attracts tourists from all over! Stratton and Bromley Mountain, two very popular ski and hiking areas, are just a few miles up the road. And Mount Snow and Killington are within an hour's drive. Manchester is also home to Hildene, a magnificent 400 acre estate once owned by President Lincoln's son, Robert Todd Lincoln. Manchester is located in the Battenkill Valley, surrounded by mountains. It's just stunning. There's great shopping, dining and charming accommodations, but there was a huge void in the fun and games category. Basically we took a line from the movie Field of Dreams and figured "if you build it they will come."
Do you lease the games or are they from your personal collection?
We bought all of the games specifically for the business. Our personal pinball collection consisted of fun-to-play machines that weren't necessarily highly rated or in the best condition. For Pastime Pinball we set out to currate a pristine collection of the most popular games from each decade.
So where did you find the games? And how long did it take to build your collection?
Since Pastime Pinball features more than 70 years of pinball, most of our games had previous -- oftentimes multiple -- owners. Oktoberfest and The Munsters were the only machines new in the box from the manufacturer when we opened. We found everything else on Craigslist, FB Marketplace, Pinside, other pinball forums and word of mouth. We spent a year and a half driving around the northeast purchasing games that met our strict criteria. Sometimes we'd travel hours only to find a machine wasn't as advertised and head home empty-handed. A few of our games were located across the country and had to be shipped. That's always scary because you're buying based on photographs and the seller's word.
When you say "new in the box," you mean pinball machines are still being manufactured?
Yes! Some people are surprised to learn that pinball games never stopped being produced. In the early 2000s Stern was the only American manufacturer churning out machines. But since then pinball has experienced a resurgence in popularity and more and more companies have come onto the scene. In addition to relative newcomers Jersey Jack and American Pinball, startups like Spooky Pinball and Multimorphic are producing innovative machines.
Do you ever sell your games?

At the present time we aren't selling any of our games. We have more machines than the arcade can accommodate so we rotate games in and out.
Do pinball machines break a lot? If so, who fixes them?
Pinball machines are very temperamental creatures! They can be working perfectly one minute and a moment later the ball won't launch or a drop target gets stuck. You might think that only old games can break but even new games need love and attention. Marty does a lot of maintenance and repair himself. We also have a few very talented technicians who keep our games in tip top shape.
Do your repair other people's machines?
No. We have our hands full working on Pastime Pinball's collection of 65+ games.
What are your favorite games?
Beth mostly plays games from the late 1980s on: Taxi, Bride of Pin•Bot, Attack from Mars, Theatre of Magic and Dialed In! Marty favors the old classics like Fireball, Centaur, Gorgar, Black Knight and High Speed.
Have a question about our pinball museum arcade that you'd like answered here? Send us an email at info@pastimepinball.com.